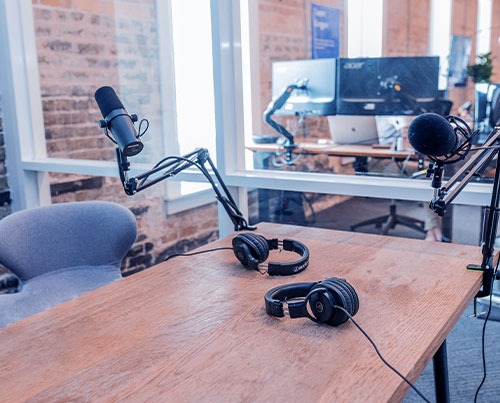 Media
Arguably, disruptive technologies and changing consumer behavior have turned the tide on the entire media and entertainment industry. Customized content, media, and services are what consumers want, including access to their favorite devices. The whole proliferation is due to the intrusion of robust entertainment technology solutions in diligence.
DigitalCook offers comprehensive IT solutions for the media industry. This includes all major segments. For example, cloud services, live streaming app development and maintenance, media streaming, Augmented Reality and Virtual Reality, and consumer content analytics for media and entertainment IT solutions. We offer our customers tailor-made media technology solutions to enable our clients to meet their objectives.
DigitalCook' seasoned professionals can deliver any media and entertainment solution, from custom apps to social networking portals. We offer comprehensive solutions that include product development, augmented reality, digital transformation solutions, and more.
Our Services in the different media sectors
DigitalCook delivers comprehensive digital solutions that redefine how the media and entertainment industry work.
Live streaming applications
DigitalCook helps build the digital future on the foundation of live streaming apps. Easily live stream your business, event, or anything to any device with our world-class solution.
Digital video solution
DigitalCook renders a wide range of video solutions that allow users to work on multiple screens. Our digital video solutions enable you to edit, measure, tailor, monetize, and grow your digital content using multiple solutions.
Digital technology media supply chain
The DigitalCook team can help you digitize your media processes through automation. We develop solutions that provide real-time visibility into complex supply chain, production and distribution workflows across media companies.
Consumer and content analytics
DigitalCook provides a complete consumer and content analytics solution that helps customers optimize content according to location, season, day or consumer.
Ensure Availability
Deliver area-to-area reliability with a resilient platform that may deal with height instances effortlessly and speed.
Simplify Operations
Orchestrate all of your IT environments with great visibility and automatic app lifecycle management.
Secure Data and Apps
Safeguard information and programs with protection designs that exceed the necessities of the United States government.
Contact us now and get the best IT media solutions! 
Content creation and development with DigitalCook
It is essential for creative businesses to enable creative teams to work faster, and in better conditions. For example, remote work and easy access to familiar resources and workflows are a necessity for modern creative firms. We help you by providing digital workspaces that offer your team the possibility to anywhere and at any time, while maintaining data and resources security.
Simplify your media processing infrastructure
The DigitalCook cloud platform provides flexibility, speed, scalability, and simplified management to power your media environment. The computing power required to perform common media processing tasks such as recording, transcoding, and packaging is increasing year by year. It is critical for the success of processing operations to have a proper infrastructure. However, things can quickly get complicated as your infrastructure needs grow. It is challenging to deploy a solution that performs optimally while remaining simple, flexible, and scalable.
Gain A Competitive Advantage
Media and entertainment companies are threatened by changing consumer habits and new high-tech competitors. Established competitors have successfully digitized their products and services, but there may still be a lot of work to be done on your digital journey. DigitalCook media solutions transforms your data center and extends your operations to the cloud. We help you meet challenges by enabling you to do so.
Benefits of DigitalCook Media Solutions
Freedom to run any app with cloud-like benefits. Providing effortless performance and simplicity for your critical workflows by virtualizing your infrastructure with DigitalCook.
Turnkey solution: Provide a responsive infrastructure for virtual desktops and applications without the inconsistent performance and risks of traditional solutions.
Always available: Ensure the availability of your critical data with customizable DR options across local, remote, and cloud locations while maintaining centralized control.
Low running cost: Optimize operational efficiency with simplified management, a smaller footprint, and lower cooling and power costs.  
Ensure compliance: Reduce certification time and ensure ongoing compliance with automated checks and self-remediation.
Improve application responsiveness: Deliver fast and responsive apps to improve user experience.
Choice of hypervisor: Run your hypervisor of choice based on your budget and preferences.
Need an IT Service Quote?