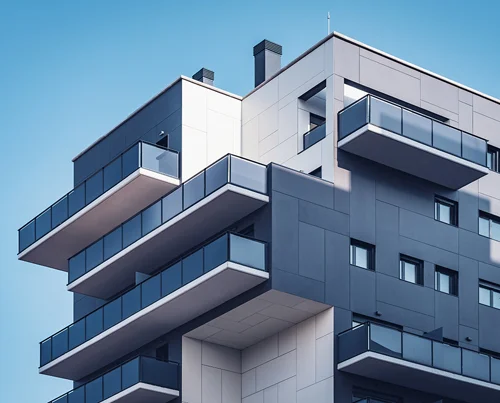 Real Estate
Like all other industries, the real estate industry is increasingly integrating technology into its practices and operations. at DigitalCook, we provide businesses with high-tech real estate IT solutions to help manage the real estate business optimally and effectively. We provide organizations and real estate professionals with robust technology solutions to meet all their business needs.
DigitalCook offers enterprise real estate technology solutions that cover everything from homeowners' association or HOA management, property management software solutions, property valuation, customer relationship management, enterprise resource planning, and tenant management.
The DigitalCook team is familiar with technologies such as digital transformation, mobility, AI and automation, cloud and mobility, all of which work together to help customers improve processes, manage risk, and increase productivity. Our real estate solutions cover custom real estate software as well as exhaustive real estate software solutions.
What are the Different Types of Real Estate Software Technologies?
At DigitalCook, we can deliver you with the software solution that best matches your requirements, these are the types of real estate IT solutions we offer.
Custom Real Estate Solutions
This is a solution that is customizable to your needs and provides immediate benefits including: Affordable development costs, depending on the number and complexity of features, user and mobile usability, etc.
Customer Relationship Management Software
This software solution type is essentially focused on user satisfaction and has the goal of solving problems efficiently. This is a useful tool that can be used to increase sales, and in industries such as real estate, customer retention is extremely important.
Real Estate ERP Software
This is a great type of software solution that can be implemented in your real estate business. This facilitates managing day-to-day tasks, payroll operations, financial reporting, and other business processes.
The Main Capabilities of Our Real Estate Software Solutions
Essential features you can find in our real estate software solutions include the following:
Benefits of Our Real Estate Technologies
Easy to manage
Develop a real estate application for all your business needs. But the most important benefit is that you or your realtor will be able to conveniently manage all activities such as property listings, sorting by categories and filters, clients, taxes, etc. It indirectly minimizes your workload by allowing you to access everything in your app and track ongoing activity.
Maintain customer Relationships and Generate Potential Leads
Thanks to our real estate software solution, you can seamlessly manage all your real estate activities and even generate potential clients. One app for your business to manage all your customers and keep them connected for years to come. This allows you to message and interact with your customers, and you can also use word-of-mouth technology to generate more potential leads.
Marketing and Workflow Automation
Real Estate software solutions allow business owners to update, email and alert customers on the latest businesses, listings and properties for sale, making it easier to build a brand, create a sales funnel and promote will be Do the work instead of doing it manually.
New Opportunities
Our real estate solutions enable you to pursue new opportunities. Implementing something new in a software solution not only makes your life easier, but also minimizes the problems you face. For example, implementing a chatbot in your real estate app can help your customers list their questions and get them answered quickly and quickly.
Scalable and Secure
Security is a key factor for businesses today, and apps are protected with multiple layers of security to prevent fraud. Furthermore, you can study and measure your traffic on a regular basis that matches your needs. As a result, real estate business owners can easily identify the parts which need improvement within their systems.
Our Real Estate Technology Solutions and Services
Our real estate solutions can help you gain a competitive advantage and increase revenue. They include multiple capabilities that are detailed below.
Contact us and benefit from our IT services in real estate provided by experts
Tailor-made Real Estate Portal
Our tailor-made real estate portal is user-friendly and seamless. These portals provide information such as floor plans, directions, area features, and other details for every apartment. This delivers users with a real life-like experience. Users can easily select the exact apartment and get a virtual overview. About 51% of buyers found their property on the Internet with the help of a custom real estate portal.
E-commerce IT Solutions
At DigitalCook, we offer online e-commerce solutions that enables real estate agencies to rapidly evolve and grow. Our expertise enables us to elevate your marketing efforts. Our e-commerce IT solutions in real estate enable you to sell your services quicker online. 
We also enable your users to shop securely and easily. With guaranteed results, you can sell more than ever before.
Booking Engine
Our online booking system offers customers instant booking and payment options through our system. From the moment a potential customer decides to book a workspace, the user can select the workspace, view it, order the furniture and finally pay for the reservation, which reduces staff workload, minimizes human error, and improves business efficiency. Your customers can therefore access multiple options and book online.
Customer Relationship Management System
We offer a customer relationship management system that helps automate a variety of day-to-day activities to increase the productivity of your sales team and engage them to sell more properties. Our system guarantees your visibility over potential customers and streamlines engaging with them through automated communications. Our customer relationship management solutions for your real estate business enables the management of various tasks such as project planning, follow-ups, marketing campaigns, site visits, and more.
Inventory management system
Our inventory management system at DigitalCook allows you to manage the flow of inventory across various stores, warehouses and locations. From local property marketing to global online sales automation, our inventory management system allows sales reps to track properties using a database of vital information such as inquiries, website visits and views. This comprehensive and efficient solution enables real estate businesses to manage various projects, floors, units and building from anywhere in the world.
Property Management Solution
DigitalCook provides property management solutions that help you manage your property operations more efficiently. We aim to facilitate your day-to-day tasks so you can put all your focus on your customers. Our property management solutions allow you to automate manual processes, save time, and improve business productivity. We create best-in-class solutions for your property management needs.
Project Management Technology Solution
Real estate project management comprises resource management processes, planning, collaboration, and stakeholder relationship management. Real estate projects include well-planned renovation projects as well as mire complex deals that require skillful negotiation. Our project management technology solutions help project managers group external or internal experts, scale real estate projects, and manage projects optimally and timely.
The Real Estate Industry and New Technology
Artificial intelligence
Artificial intelligence or AI has taken over multiple industries. It's an effective technology that enable making your property more intelligent and connected.
It enables the collection of huge volumes of data every day whether through Internet searches, connected devices, or social media. However, the volume is overwhelming. AI quickly combs through this data to find trends such as: Prediction of Future Movements. In the real estate industry, this entails foreseeing trends that can impact home/rent prices, which can lead to a more accurate priced inventory.
Brokers and property owners can use the artificial technology to distinguish potential customers. They can then contact you with a personalized pitch. Artificial intelligence has unique capabilities that streamline processes so you can focus on better, more creative projects.
Internet of things
Forget old intercoms where you have to try your luck calling building residents and hoping they're home. They are cumbersome, time consuming, unreliable and a thing of the past.
From smartwatches to self-driving cars, the Internet of Things (IoT) is fundamentally changing our lives. IoT refers to devices that exchange information with other devices over the Internet. Today, IoT allows property owners and residents to turn their smartphones into mobile video intercoms.
This means you can see who is trying to break into your building, no matter where you are. It's easier and more convenient to welcome visitors, and it's safer to control who has access to your building. It also allows property owners and managers to easily track who enters their property to ensure the safety of their tenants.
Since these devices are cloud-based, they can connect to other smart devices and devices in the building. Residents can use smart devices to automatically call the elevator, turn on the air conditioning in the unit, and preheat the furnace.
Virtual reality and augmented reality
Imagine being able to browse a property without actually entering it. Virtual reality (VR) takes people around the world and makes them feel like they are in another place.
There is great potential in real estate. Buyers can use the virtual reality technology to walk through properties as if they were there, even on the other side of the world. With VR, businesses can create virtual tours of their homes, showcasing neighborhoods and allowing potential customers to walk the streets. 
Similarly, augmented reality helps people see a virtual complement to their current location. This technology doesn't take you to new places, but adds things to your current view, the same technology that brings digital creatures home in the famous PokemonGo game.
Augmented reality allows property owners to see home furnishings and renovations before they actually happen.
Need an IT Service Quote?