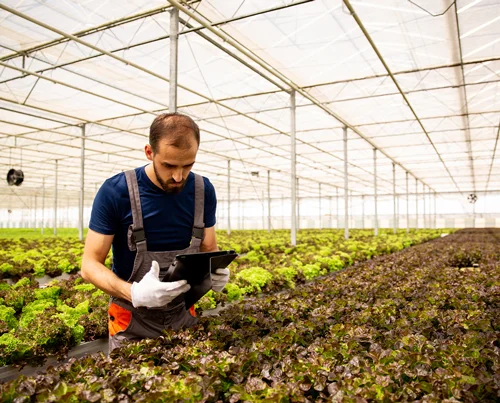 Food Processing
The food processing industry relies heavily on technology and digitized tools. Multiple IT solutions help to manage the agri-food business operations and optimize its services. These solutions include information analysis software program, enterprise resource planning (ERP) software program, supply chain traceability software solutions which includes radio frequency identification (RFID), product lifecycle control (PLM) software program and stock control software program.
At DigitalCook, we can deliver multiple IT solutions for the agri-food industry and enable your business to gain advantage from technology.
IT Solutions and Software Programs for The Food Processing Companies
IT solutions and software programs for the meals processing enterprise are aimed toward enhancing transparency and traceability throughout their delivery chain.
Food manufacturers can display the quality of incoming uncooked materials, in addition to the completed merchandise at the same time as complying with meals protection policies and enforcing product traceability.
Software solutions in the food processing industry can also accurately measure the amount of raw materials needed to produce different foods and handle complex production recipes.
Technologies such as ERP software enable integrated inventory management and efficient monitoring of manufacturing and packaging.
Access Our Services Today and Contact us!
Benefits of Automation in the Food Industry
Automation of the food manufacturing process can bring multiple benefits when it comes to rising raw material and labor costs and tightening food safety regulations. It helps agri-food businesses achieve higher productivity with fewer workers and correct inconsistencies and human errors.
Automation in the food industry can enhance the process of quality control, ensure product safety, prevent product recalls, and decrease food waste. And by reducing operating costs, you can improve efficiency and increase profits. Another benefit of automation is the ability to unify production processes and create products with similar taste and texture.
Our Services at DigitalCook
Your business is your priority and it is our mission to help you go digital. At DigitalCook, we focus on providing solutions that facilitate companies' adaptation to new digital tools, improve and speed up production processes and communication between stakeholders.
Latest Technology Implementation:
We employ this technology in order to generate the best possible results for our clients: Perimeter security, virtualization and storage, backup services, video surveillance, as well as access control.
Adaptation to the corporate sector
We have deep experience creating spaces for different sectors of the agri-food industry and adapting our solutions to your company identity.
Back-office integration
The DigitalCook team has developed solutions integrated into the corporate back office, optimized production processes, and improved business communication and security. 
Agrifood technology expertise
We have deep experience in consulting, developing and implementing solutions focused on creating the right IT infrastructure that fits each agrifood business's unique requirements.
Latest Technology Implementation
We employ this technology in order to generate the best possible results for our clients: Perimeter security, virtualization and storage, backup services, video surveillance, as well as access control.
Our Software Solution Capabilities
We can develop high-tech modular software applications that are practical and relevant for both large and small businesses and customize it for your specific business needs.
Industry-specific features:
Easily integrate industry-specific functionality. Our solutions can help you use storage silos, integrate special registration equipment, manage inventory at slaughterhouses, and more.
Modular Implementation:
Our customers decide for themselves how far they want to automate their processes, choosing from a variety of modules ranging from simple tasks such as pure management to full production control based on recipes, production schemes and capacity planning.
Infinite possibilities
We want to provide our customers and software users with an integrated and complete solution from a single source. This means continuously adapting our software to meet your requirements and your specific needs and desires.
Not only is the selection of options defined, but the menu content and interface can also be tailored by groups of users or by individual users. The software contains a user-friendly interface. You can also use your own reports, translations and terminology.
Chain traceability and data quality:
Chain traceability integrated with EDI makes miss-tracking and wrong identification of products on receipt impossible.
Thanks to unique product identification, unnecessary double registrations are eliminated throughout the process, ensuring correct inventory management and 100% traceability.
Implementation and International expansion:
Our qualified team of technicians will integrate your solution into your existing system while keeping all your information intact. We also offer quality maintenance and support services available around the clock to ensure your systems are optimally functioning.
We mainly use our own resources for the implementation. We are available in multiple countries around the world and work with carefully selected partners. This allows you to implement country-specific functionality that complies with local regulations and laws.
Need an IT Service Quote?