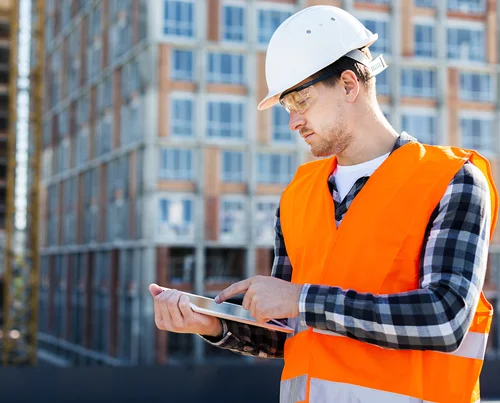 Construction
The Construction, Operations and Airport sectors are going through a modern transformation, exploring new approaches to enhance performance, accuracy and transparency in their key commercial enterprise processes, even as improving standard overall performance and customer experience. They are constantly being challenged through rapid adoption with more modern technologies, want for innovation and statistics pushed operations.
This method affords a big possibility to undertake virtual transformation and strongly pursue innovation and new marketplace enlargement for development.
DigitalCook's customers collaborate with us to leverage the advantage of disruptive innovation and quantum productiveness upgrades on this virtual, statistics and user-friendly environments to satisfy the rising desires of modern transformation.
To deal with the needs of world infrastructure developers, provider vendors and operators, DigitalCook has a committed vertical that gives price through execution and operational performance advantage, productiveness and protection upgrades, customer experience, and differentiated go-to-marketplace propositions.
Contact us and get the best IT services for construction in France.
Our IT Services for The Construction Industry
Procurement: Let us manage the acquisition of latest hardware, software, and different mission-crucial IT system at discounted expenses
Multi-Location Support: We are located in different regions around the world. Get the IT aid you need, anytime, everywhere
Cloud Solutions: Secure, get right of entry to, control your documents, files, emails, and different crucial property from everywhere
Network Security: Manage and get right of entry to your maximum crucial information, preserve crucial statistics steady with firewalls and monitoring, enhancing your commercial enterprise overall performance with the proper blend of community management, security, and bandwidth
Backup and Recovery: Mistakes happen, computer systems fail, and those drop things. Protect your information through maintaining your personnel up and strolling
 24/7 IT support: Got an IT problem? We can help you. Whatever your question, we are standing by to resolve any issues that may arise
Managed print service: Never run out of toner while saving time and money with our intelligent permission-based print management solution.
Mobile device management: Manage all the devices your team uses - tablet or phone or any other device with our device management solutions
The Advantage of Our Services
Time is of the essence in the construction industry. When your contract is at stake, you can't afford to waste time dealing with unreliable networks, incompatible software, and lost communication with your employees. This is where our solutions at DigitalCook come in. We know your company's challenges. Managers, estimators, and sales teams need 24/7 access to computer tools. CAD, calculations and other software must be well integrated. Your network must maintain uptime.
Possibilities for a successful construction company using our IT services:
Deploy mobility solutions to keep your team connected

Protect electronic files and data

Make sure the software packages work well together

Ensure the smooth operations of your network and build a solid business foundation.  
Our team is always working to reduce costly downtime and optimize your resources. DigitalCook Solutions provides affordable and efficient solutions for your technology needs.
We are aware of the digital resources that firms in the construction field rely on for all their operations. Let us manage your IT so you can manage your business.
Tailored IT solutions for construction companies: Having a reliable IT support company that can handle your needs is essential. We know you work in a fast-paced industry and need instant support to troubleshoot issues anytime, anywhere.

We understand the uniqueness of the construction industry and the challenges our customers face, including: multiple locations - several temporary locations, user numbers change frequently, portable application and mobile device support and configuration, remote job tasks.
We take pride in supporting our customers' systems and ensuring uptime, providing support for third-party applications, and working with vendors when issues arise.
We take the time to understand your specific business needs and design customized solutions that help you be more productive and get the job done faster.  
Need an IT Service Quote?